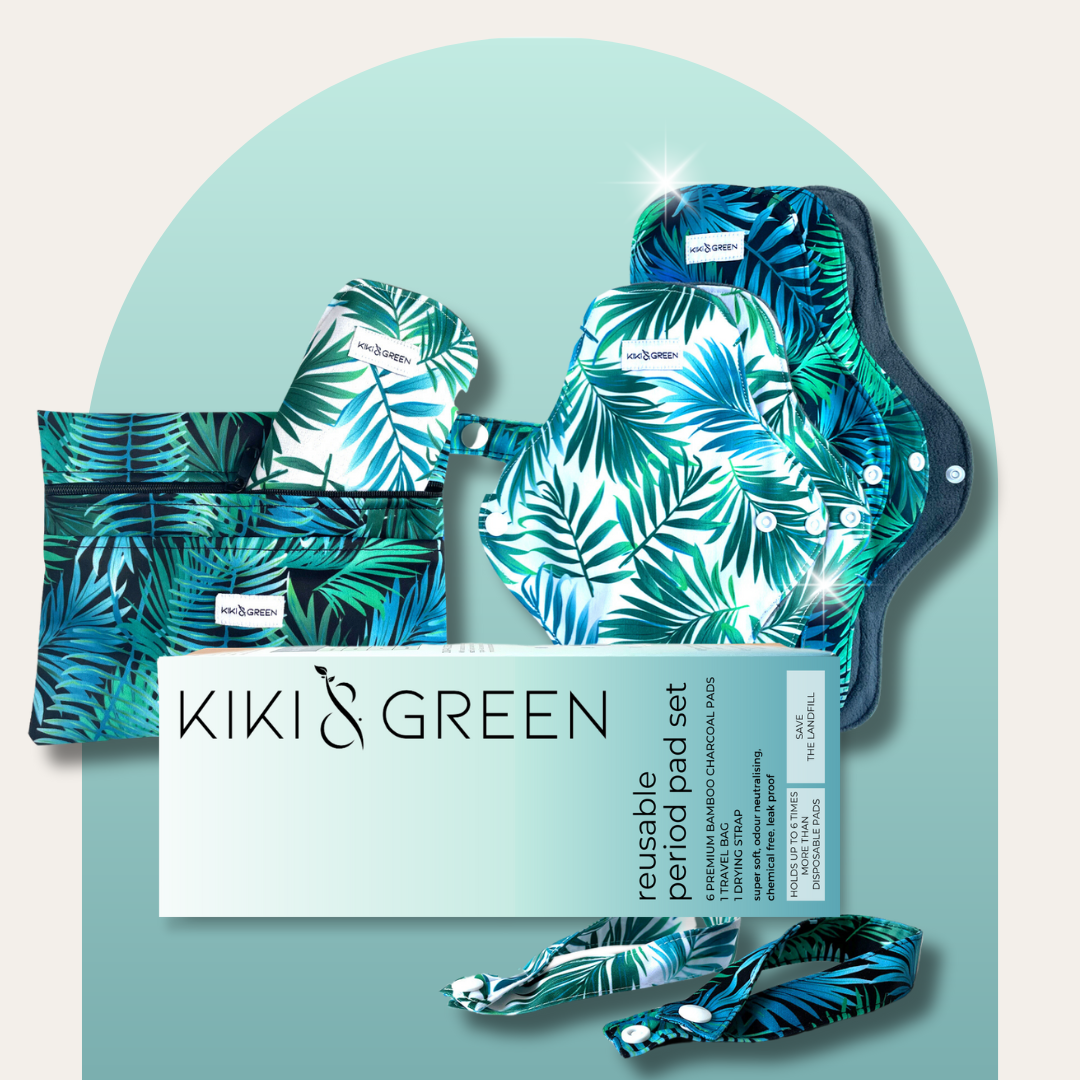 Embrace your best period yet with our reusable period pads.
Superior Comfort. Magically Dry. Peace of Mind.
Superior Comfort. Magically Dry. Peace of Mind.
At KIKI & GREEN, we're on a mission to transform your period experience into one of pure comfort.

We get it, we know that periods can be challenging. Which is why we've poured our hearts into designing our reusable pads with your well-being in mind.

Our pads are meticulously crafted to provide exceptional comfort, ensuring you feel your best throughout your cycle.

With no harsh chemicals or irritants, our pads offer a gentle and cozy experience that you can count on, time and time again.

Make the switch to our reusable period pads today. Let's make periods better, together.
Individual Pads
Perfect if you need a few extra pads to cover your entire cycle or just want to try out our pads!
Shop Our Pad Set Bundles
Our revolutionary leak-proof technology has got you covered the whole day. Our UltraAbsorb Core™️ can hold the same as up to SIX regular single-use tampons or pads! Experience unmatched comfort and confidence with our completely chemical free and super soft pads. It's time for a much better period, and we've got you covered!
Our pads are thoughtfully crafted with the following features:

Stay Dry Feeling Topper:
Experience the next level of dryness with our super absorbent, anti-microbial bamboo charcoal topper. It not only keeps you feeling fresh but also provides exceptional comfort. Plus, the adjustable poppers ensure a perfect fit tailored to your needs.

Super Absorbent Inner Layer:
Our pads feature the cutting-edge UltraAbsorb Core™ Technology, which rapidly absorbs moisture, keeping you dry and comfortable all day long. No more discomfort or worries about feeling damp during your period.

Anti-leak Layer:
Say goodbye to worries about leaks with our innovative waterproof layer. Designed to provide an extra layer of protection, it keeps you feeling secure and confident throughout your day.
WHAT'S IN A PAD SET BUNDLE?

ALL SETS COME COMPLETE WITH COMPLIMENTARY TRAVEL BAG AND DRYING STRAP.

Light Flow Set:
6 Light flow pads, 1 travel bag, 1 drying strap.

Regular Flow Set:
6 Regular flow pads, 1 travel bag, 1 drying strap.

Teen Set:
This set is ideal for young teenagers experiencing their first periods. 3 Light/Regular flow pads (teen size), 3 Heavy flow pads (teen size), 1 travel bag, and 1 drying strap.

Mixed Set:
3 Regular flow, 3 Heavy flow pads, 1 travel bag, 1 drying strap.

Heavy Flow Set:
6 Heavy flow pads, 1 travel bag, 1 drying strap.

Ultra Heavy Flow Set:
6 Ultra Heavy flow pads, 1 travel bag, 1 drying strap.
Light Flow:
Ideal for everyday freshness all the way up to regular flow. 4x more absorbent than disposable panty liner. 20cm in length.

Regular Flow:
Perfect pad for regular flow all the way up to heavy flow days. 6x more absorbent than disposable regular pad. 25cm in length.

Heavy Flow:
Great for when it's a heavy day and you want a bit more coverage. Absorbs 6x more than a heavy disposable pad. 29cm in length.

Ultra Heavy:
Perfect pad for heaviest of flow days, heavy night flow and post birth. Absorbs 5x more than a "maxi" disposable pad. 30 cm in length.

Our pads attach the same way that a disposable does. You simply put them into your underwear and attach the popper wings on the underside making for a secure fit and then you're good to go.

Care Guide
Looking after your pads is super easy once you know how.

Before use
Prewash all pads on cold wash with detergent. This helps to activate the absorbent fibres.

After use 
Rinse pads in cold water, (until water runs clear). Wash with normal detergent - up to 40 degrees, (or hand wash as you go).

After washing
Air dry wherever you like with our handy drying straps provided.
"The best reusable pads I've purchased

These are absolutely fantastic.. Beautiful packaging, Well made high quality pads which are super comfortable and wash really nicely. Best re-useable pads that i have purchased. My teenage daughter has started using them too and is surprised at how good they are."

"Insanely absorbant!!

Comfortable and insanely absorbant, so good i bought them twice."

"Sometimes forget I'm wearing them!

These pads are well made, very absorbent, and comfortable to wear. I have medium-to-light periods and I have worn these through 2 periods with no leaks. It also is very comfortable sometimes I forget I am wearing it."

"Used for bladder weakness ❤️

I don't use them for periods but for bladder weakness, and feel so secure. Thank you KIKI & GREEN."

"Amazing for super heavy flow, leak proof.

Really good quality product. The pads were effective for a very heavy period usually requiring a super tampon and super pad together, both requiring change every 2 hours. Lasted throughout the night."

"So much better than disposables!

The pads are fantastic! Really soft and just so much better than disposable ones. Thank you."
I LOVE MY BODY AND ALL MY CYCLES
Pads that have got your back
UltraAbsorb Core™ SIX times more absorbent than disposables.

Antimicrobial and odour-proof.

Chemical Free.

Ultra Soft.

Made With Love.

Can be used for up to 4 Years.

Eco-friendly.

Easy Care.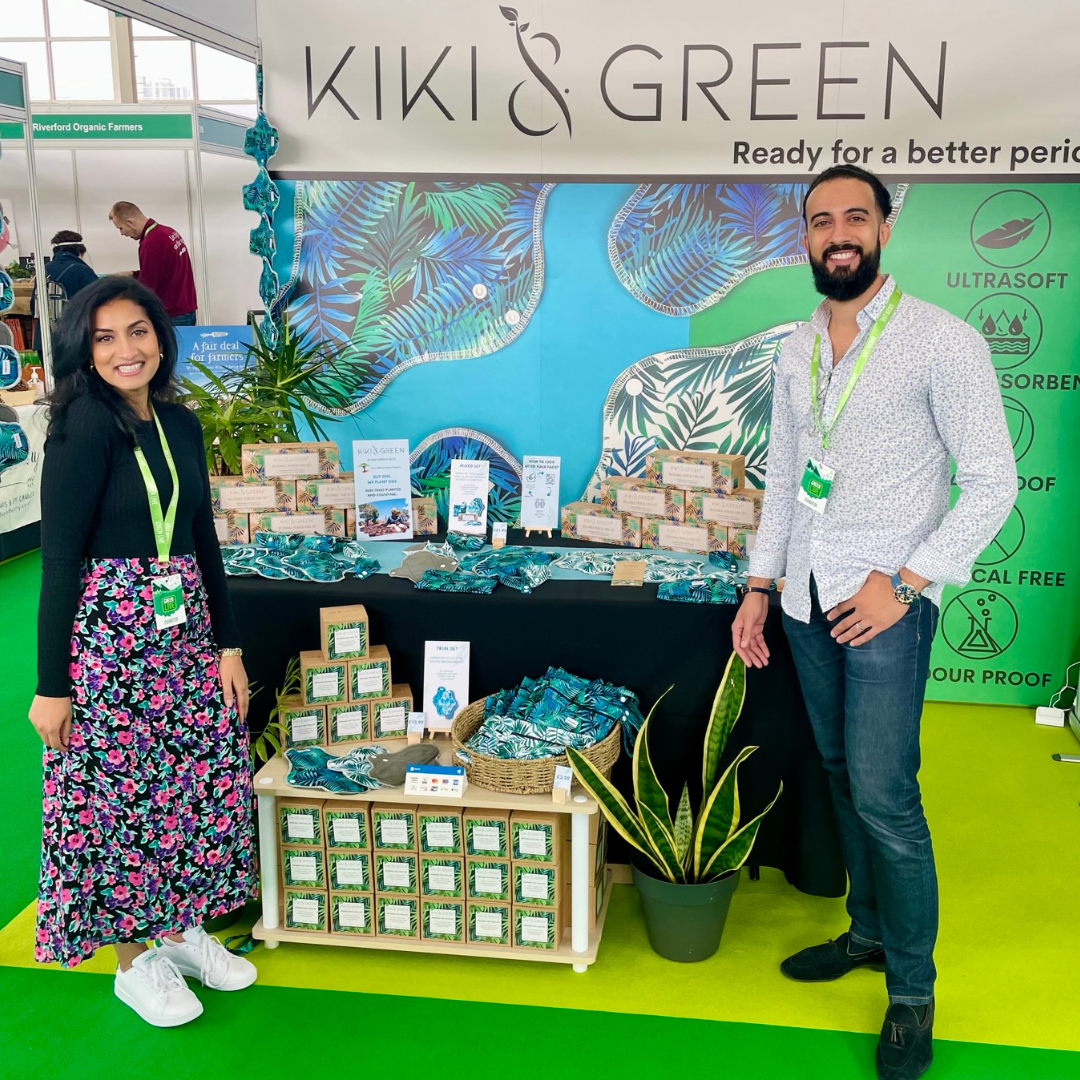 Meet our founders
Hey there! We're Rupal and Kamal, a couple passionate about making your period care experience exceptional. When I was searching for reusable pads, my main focus was on finding something that was not only eco-friendly but also incredibly comfortable. I knew that we shouldn't have to settle for uncomfortable, plastic-filled disposable pads.
That's when the idea for KIKI & GREEN was born. We set out on a mission to create premium, luxurious period pads that prioritize your comfort above all else. Our pads are thoughtfully crafted with high-quality materials and designed to provide you with the ultimate comfort during your period. We believe that you deserve the best, and that's exactly what we strive to deliver.
Join us on this journey of comfort, sustainability, and empowerment. Together, we can redefine the way we experience periods. Trust me, once you try KIKI & GREEN pads, you'll never want to go back to disposables.

Get ready for a whole new level of comfort and confidence.

With love, Rupal x